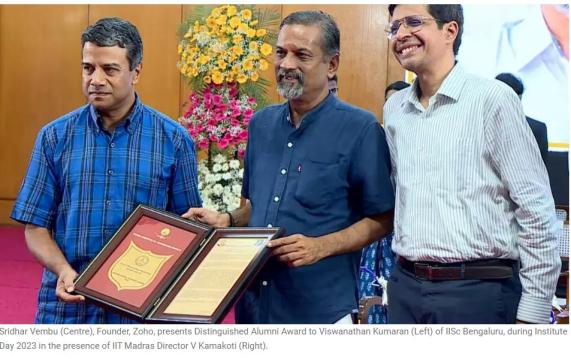 IIT Madras to set up its first international campus in Tanzania
21st Apr 2023

The Hindu Business Line
It will be the first IIT campus in Africa and classes are to start from October, said its director V Kamakoti

The first Indian Institute of Technology to be set up in Africa will come up in October in Tanzania. IIT Madras will set up its first International campus in Zanzibar, Tanzania, with plans to to start the classes by October 2023, said its Director V Kamakoti in his presidential address at IIT Madras' 64th Institute Day.

In February, a team of five professors from IIT Madras visited Tanzania and held discussions with various officials on starting the campus.

"This would be the first IIT to be set up in Africa and can be instrumental in growth and nation building of not only Tanzania but of the continent," Binaya Pradha, High Commissioner of India, Tanzania, tweeted in February, during the delegation's visit.

Sridhar Vembu, Founder of Zoho Corporation, was the chief guest of the event. He is an alumnus of the 1989 batch of BTech in Electrical Engineering and a distinguished alumnus of IIT Madras.

Self sufficiency
Kamakoti in his address said, "Vembu reflects what India aspires to do and what we should do in the Amritkal as we are progressing towards the 100th year of Independence. As a country, we need to become stubbornly self-sufficient with all our indigenous technology, and that's all possible only if we innovate and be employers rather than employees. Vembu is an example of this by building a $1 billion company, coming from a South Indian village."

IIT Madras has designed a clear path for transformation of idea to design to prototype to start-up to unicorn, he said. IIT Madras is creating an environment to enable students to become employers rather than employees.

Vembu, in his speech said that technical minded business is not very hard but the hard part that that engineers underestimate is the sales part.

"How do you persuade somebody to part with money? That's the hardest part in business. You better learn that. If you want to be a businessman, the thing that you have to learn is how to sell. Those with good selling skills don't need an engineering degree to succeed," he said.

"If you have engineering skills and don't have sales skills, you will be dead. That I learned the hard way," he said.