Banks
The Institute has two banks situated in the campus: State Bank of India and Canara Bank. Both banks are regular branches in the campus and are housed in separate buildings. Application forms for important national level exams such as JEE, GATE and CAT are sold in these banks.
State Bank of India:
Institute employees have their salaries credited to the State Bank of India (SBI). The bank has two ATMs – one located within the premises and the other near the Taramani Guest House. The SBI ATMs can be used to make all payments to the Institute.
Canara Bank:
The Canara Bank is located near the shopping centre close to the residential area. Of the two Canara Bank ATMs, one is located within the premises and the other at SFC.
There is also an ICICI Bank ATM located in the Hostel Management Office for students. 
Post Office
The campus has a Post Office and a Telecom Centre, which come under separate postal zones. 
The Telecom Centre, located in the Management Science building near the library, is used for sending telegraphs, fax messages and making long distance telephone calls. The post office, located near the State Bank Of India, operates every weekday from 7.00 A.M. to 5.00 P.M. and from 9.00 A.M. to 2.00 P.M. on Saturdays.
Shopping Complex
The campus has two shopping centres that cater to the needs of the students and residents. One is the Student Facility Centre (Gurunath), located in front of Narmada hostel. The other is located in the residential area. The second complex offers everything from general supplies and groceries to a bakery and saloon.
Hospital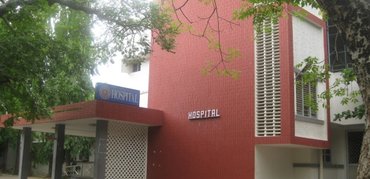 The Institute hospital, located near the Central Workshop, includes facilities to address the general health problems of students. Apart from regular doctors, there is a set of visiting specialists that include a general surgeon, ENT surgeon, ophthalmologist, orthopedician, cardiologist and psychiatrist. There are well-equipped laboratories for all tests, X-Ray and in-patient wards, while an ambulance facility is also available. The Apollo hospital runs the pharmacy in the hospital.
All students are covered under medical insurance by paying a premium and additional medical fee every semester.
Bus Transport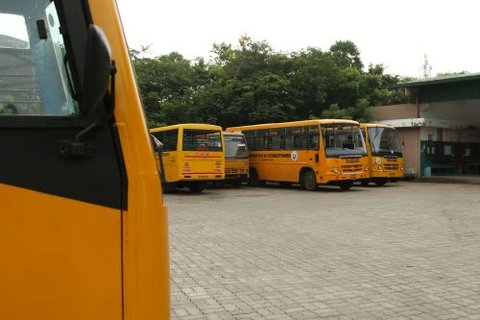 The Institute provides bus transport facilities within the campus. Four regular buses and 10 battery-powered vehicles, named after mountain ranges and peaks in India, come every 20-30 minutes between the IN-Gate and Gajendra Circle (GC), Hostel Zone and Department Zone. The bus shed is located near the Staff Canteen.
Canteens
The campus has a couple of food joints, mostly visited by hostel members looking for something different.
The following are the eateries on campus with the opening and closing times.
| Eateries | Opening time | Closing time |
| --- | --- | --- |
| Bachelors Restaurant FFT | 9:00 | 21:00 |
| Coolbiz-Girls SFC | 9:00 | 0:00 |
| Grama Bhojanam-FFT | 9:00 | 21:00 |
| Café Coffee Day (CCD) | 10:00 | 0:00 |
| Kannan Catering Services-FFT | 9:00 | 21:00 |
| Leo Fortune | 7:00 | 23:45 |
| Student Tea Stall | 12:00 | 4:00 |
| Indian Coffee House | 9:00 | 18:00 |
| Stud Dosa-Girls SFC | 17:00 | 0:00 |
| Usha Café-Girls SFC | 9:00 | 4:00 |
| Woss-FFT | 9:00 | 21:00 |
| Wow Momo-FFT | 9:00 | 21:00 |
| Anjappar Chettinad Rest. | 9:00 | 22:30 |