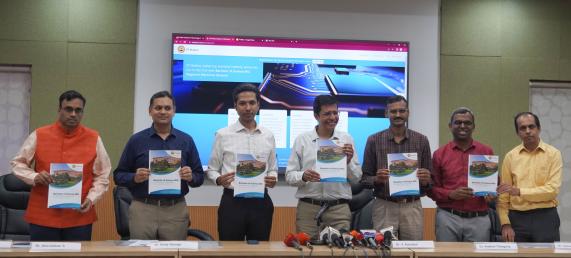 Hon'ble Education Minister Shri. Dharmendra Pradhan launches IIT Madras four-year Bachelor of Science in Electronic Systems
6th Mar 2023

Press Release
Shri. Dharmendra Pradhan, Hon'ble Education Minister, Government of India, launched the Indian Institute of Technology Madras' (IIT Madras) four-year online Bachelor of Science (BS) in Electronic Systems (https://study.iitm.ac.in/es/).

The key objective of the program is to meet the significant and growing demand for skilled graduates in the electronics and embedded manufacturing sector in India. The program also features multiple exits and the students can get a Foundational Level Certificate, Diploma or the BS degree.

The program aligns with the India Semiconductor Mission to make India a global hub for electronics manufacturing and design. This is the second online BS program from IIT Madras following BS Degree in Data Science and Applications, which has more than 17,000 students studying currently.

The BS in Electronic Systems was launched today (6th March 2023) in the presence of Shri K Sanjay Murthy, Secretary, Higher Education, Government of India, (who joined virtually), Dr. Pawan K. Goenka, Chairman, Board of Governors, IIT Madras (virtually), Prof. V. Kamakoti, Director, IIT Madras, Program Coordinators, BS in Electronic Systems, IIT Madras, Industry leaders and other faculty members.

To accomplish the mission of making IIT education more accessible to all, the fee for the BS in Electronic Systems programme has been kept affordable with additional scholarships being provided to students belonging to SC/ST/PwD categories and those with family incomes of less than Rs. 5 Lakh Per Annum, ensuring inclusivity.

Addressing the launch event, Shri. Dharmendra Pradhan, Hon'ble Education Minister, Government of India, said, "After successfully running the course of BS in Data Science for the last few years, IIT Madras has another feather in its cap - BS in Electronic Systems. I congratulate the entire IIT Madras under the leadership of (Director) Prof. V. Kamakoti... This is the right approach to implement National Education Policy (NEP) 2020. All the recommendations of NEP, whether it is flexibility, job oriented, entrepreneurship oriented, credit framework is attached to this architecture, multiple entry and exits, and above all, affordability in Indian higher education system with quality and accessibility are present in this BS in Electronic Sytems."

Shri. Dharmendra Pradhan added, "We are carving out a new place with our collective call under clarion call of Hon'ble Prime Minister Shri Narendra Modiji. India is now the natural global leader of the digital ecosystem for the common man... In all aspects, the using of digital system, whether it is payment, day-to-day convenience, in the transportation, agriculture and in all other aspects of day to day practices, we are creating a new ecosystem."

Further, Shri. Dharmendra Pradhan said, "The Government of India is facilitating with good policy reforms with initiatives like PLI (Production Linked Incentive Scheme) to create a global hotspot for this ecosystem. I am confident, happy and proud that Director of IIT Madras is always ahead of time. This year's Budget is an indication of the Government's commitment towards this digital ecosystem...This course is going to create to a new benchmark for all other important institutions and industry also."

Students graduating from this program can find job opportunities in industries such as Automotive, Semiconductor, and Defence, among others, for positions like:

- Electronic System Designer

- Embedded System Developer

- Electronic Hardware Specialist

- System Testing Engineer

- Electronics Research Engineer

The Graduates can also pursue higher studies in their area of interest.

Congratulating IIT Madras for developing this unique program, Dr. Pawan K. Goenka, Chairman, Board of Governors, IIT Madras, said, "This BS Program was first announced in 2020 and was launched with the BS in Data Sciences. It is a very successful program with 17,000 students currently enrolled. What makes it a very unique program is that it makes IIT education accessible to a very wide range of people who otherwise may not be able to come to an IIT to get that kind of education. And also, it is very flexible in terms of where you want to exit. One does not have to commit for four years. Once you sign up, they can exit after 1 year, 2 years or 4 years. To the best of my knowledge, this is the only program that we have in whole of India, which gives that kind of flexibility and accessibility to the students. It creates a new template on how higher education can be made accessible to a wide mass of potential students in India and that really is a very good design. The Board of Governors was very happy to approve this initiative by IIT Madras."

Dr. Pawan K. Goenka added, "The course today on Electronic Systems is also very timely. All sectors today are becoming very electronics dependent. If I look at automobiles sector, for example, you can call a car a 'computer on wheels.' Even in servicing of automobiles, you need to have electronics knowledge. As we look to the future, the jobs will be more and more be moving towards electronics expertise and therefore, to offer a course like at this time to prepare the youth for being ready to participate in this growing field of electroncs is very timely."

The BS (Electronic Systems) program is open to anyone interested in Electronic Systems, irrespective of age, with the only eligibility criteria being that the candidate should have studied Mathematics and Physics as part of their Class 12 (or equivalent).

Admission to the program is possible without JEE through an in-built 4-week qualifier process. Candidates who apply will be provided access to four weeks of content taught by IIT Madras faculty and the qualifier exam will be based on this content alone. Sufficient support will be provided to candidates in this period in the form of discussion forums and live sessions.

Highlighting the unique aspects of the BS in Electronic Systems program, Prof. V. Kamakoti, Director, IIT Madras, said, "With the growing prominence of electronics in the current world scenario, for example, mobility solutions including mobile phones and electric vehicles replacing conventional mechanical vehicles, education of electronics fundamentals at scale becomes crucial both for Research and Development and capacity building to meet the industry demand. Keeping this in mind, IIT Madras is launching this BS course which we expect to help meet the need of our nation and aspirations of the student."

While the course content would be delivered in online mode, quizzes and examinations would be in-person to ensure academic rigour and quality of the program. Qualifier examinations will also be an in-person proctored examination conducted in more than 150 cities across the country and abroad as well. Coaching is not required to enter this program. All those who obtain the minimum required score in the qualifier exam can continue with the program as there is no limit on the number of seats in the program.

Highlighting the need for such courses, Prof. Boby George, Faculty, Department of Electrical Engineering, IIT Madras, and Coordinator, BS in Electronic Systems program, IIT Madras, said, "There is a high demand for a skilled and knowledgeable workforce in the area of electronic systems. Keeping this in mind, the program has been designed in consultation with industry leaders in this domain. The graduates of this program will have strong fundamentals and industry-ready skills ensuring high employability."

Students who are in Class XII in 2023 can apply and secure admission and join the program after they successfully clear Class XII. Students pursuing any other academic program currently (as permitted under current UGC regulations) or working professionals can also apply and upskill themselves in this area.

The program comprises a mix of theory and laboratory courses that will be taught by IIT Madras faculty and experts in the industry. As part of the courses, students will be provided with recorded video lectures, reading materials, weekly assessments, tutorials and interactive doubt-clearing sessions, all of which can be done online. The laboratory courses require the students to be mandatorily present in-person at IIT Madras for about two weeks every semester.

Further details about the program can be obtained from the course website - https://study.iitm.ac.in/es/.