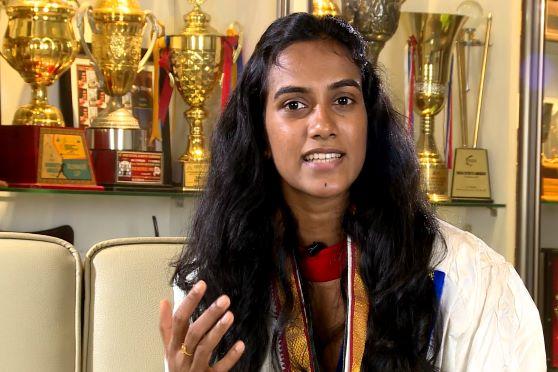 Hard work and discipline key to success: P.V. Sindhu at IIT Madras convocation ceremony
21st Nov 2021

The Telegraph
Summary
* 2,425 degrees awarded to students at the 58th convocation ceremony
* A total of 1,962 students graduated on the occasion

Work hard and success will be yours, this was badminton world champion P.V. Sindhu's message to the graduating students at 58th convocation of the Indian Institute of Technology Madras held virtually on November 20.

A total of 1,962 students graduated on the occasion. As many as 2,425 degrees (including joint and dual degrees), including the highest number of PhDs in s single academic year - 392 - were awarded.

Sindhu was the chief guest at the convocation ceremony. "I would like to congratulate the graduates and their parents for their hard work.... You have to keep trying. You have achieved a lot. You have to keep learning a lot more in life. This is just not the end. You need to learn different things and try out different things. You should not stop only with one thing but you learn a lot more. It does not matter if you fail or get success," the Olympic medallist said.

"As you all know, hard work is the key for success. Passion towards whatever you do is also very important. I think these few things are very important in life and also discipline. You have to follow the rules and regulations. It is not always the way you do but the discipline towards any field is very important. Because, in sports, if I have to say, the discipline, hard work and the commitment and the passion towards whatever you do (or) whatever you want to achieve in life and the goals you have in life are very important," Sindhu said.

Pawan Goenka, chairman of the Board of Governors at IIT Madras, presided over the convocation in the presence of IIT Madras director Bhaskar Ramamurthi.

Congratulating the graduating students, Goenka said: "Given how the humankind is gearing up to leave covid behind, there is probably no better time to make this world a better place to live in. The pandemic has accelerated the rate of tech adoption across streams of life, especially in the areas of education, telemedicine and digital economy, which is very relevant for engineers and scientists."

"My interactions with professors, researcher scholars, start-ups, and students at IIT Madras have convinced me that the calibre of research and innovation in India is as good as anywhere else in the world. In the last couple of years, my belief in India to do cutting-edge research has become even stronger. I am truly impressed with what is being done at IIT Madras in areas of 5G, drones, hyperloop, space technology, 3D printing, etc. Work like this will define the 'New India'," Goenka said.

Ramamurthi presented the institute's annual report. "The Institute continues to attract substantial funding for its research and consultancy activities from Ministries of Government of India and from industry. In 2020-21, the institute received sanction for 179 ministry-sponsored projects for a total value of Rs 359.25 crore and 533 consultancy and industry-sponsored research projects amounting to Rs 230.09 crore. Despite the pandemic, we have maintained our growth momentum in attracting funding for research from both government and industry. The growth in the latter is particularly encouraging and heart-warming, as IIT Madras is widely perceived to be the leader in research collaboration with industry."