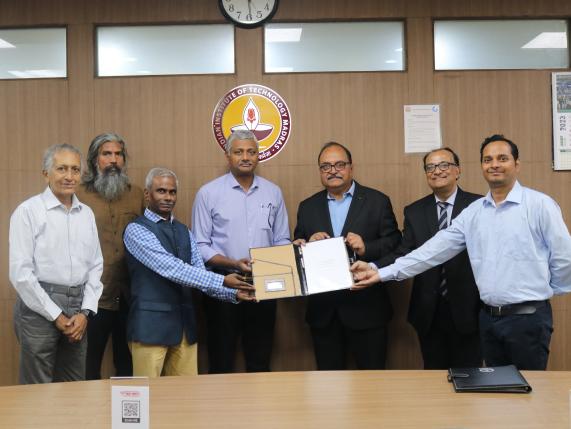 IIT Madras to develop 'Extended Reality' (XR) centre for Steel Authority of India (SAIL)
22nd Mar 2023

Press Release
Indian Institute of Technology Madras (IIT Madras) is going to develop an 'Extended Reality' (XR) Centre for Steel Authority of India Limited (SAIL), the largest steel-making public sector undertaking in India.

The centre, coming up at Management Training Institute (MTI), a unit of SAIL located at Ranchi, would showcase the latest Augmented Reality / Virtual Reality / Mixed Reality (AR / VR / MR) and Haptic Technologies.

Steel Authority of India Ltd (SAIL) will utilise the advanced technologies created at the newly-established eXperiential Technology Innovation Centre (XTIC) at IIT Madras to promote Research and Development (R&D) in the domain of Extended Reality.

A MoU towards this collaboration was signed recently between SAIL-MTI and IIT Madras for collaboration on the application of Extended Reality (XR) and other technologies in Steel manufacturing. The SAIL-MTI has requested IIT Madras to be a knowledge partner in the design, development and deployment of short-term and long-term new age trainings and lab for training purposes.

Elaborating on the key aspects of this collaboration, Prof. M. Manivannan, Department of Applied Mechanics, IIT Madras, and Principle Investigator, XTIC-IIT Madras, said, "XR Technologies has the potential to add value in many aspects of steel making, and probably the entire lifecycle of steel."

This XTIC is India's first Research and Product Innovation centre for XR and haptics Technology, a transdisciplinary centre encompassing several fields of engineering, medicine, psychology and arts. As XR is highly interdisciplinary, innovations in this field need a confluence of minds from different fields.

Looking forward to this collaboration, Shri Sanjeev Kumar, Executive Director (HRD), SAIL-MTI, Ranchi, said, "SAIL is proud to handshake with IIT Madras for effective use of various advanced technologies for design and development of innovative Training programs, for the training using new age technologies of Artificial Intelligence, Machine learning, Extended Reality, Drones, 3-D printing, Robotics and Haptics."

The XTIC will not only develop XR technologies for SAIL-MTI but will also impart training to concerned SAIL employees on XR technology and help them in future XR/VR system for their use.

The XTIC has established 'CAVE,' a consortium of start-ups and Industries in the field of XR and Haptics in India. The ecosystem led by XTIC will be roped in to design future Digital Twins for SAIL-MTI.

While most of the research labs around the world are focusing on either software or hardware components of XR, the centre in IIT Madras is focusing on the fundamentals of XR - human factors, particularly perception and illusion, pioneering a new field Perceptual Engineering, and Perceptual Algebra.