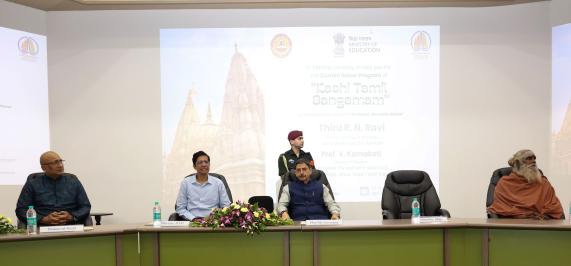 Curtain Raiser for Kashi Tamil Sangamam held at IIT Madras
28th Oct 2022

Press Release
The Curtain Raiser program for the 'Kashi Tamil Sangamam' was held at the Indian Institute of Technology Madras (IIT Madras) Campus today (28th October 2022).
Being organized by the Government of India as a part of "Azadi ka Amrit Mahotsav" and to uphold the Spirit of "Ek Bharat Shreshta Bharat", the Kashi Tamil Sangamam, will be a month-long program in which people from Tamil Nadu belonging to 12 different clusters such as Art, Literature, Spirituality, and Education, will be taken on an educational tour to Varanasi as special guests.
Interested people are encouraged to register through the portal https://kashitamil.iitm.ac.in/
IIT Madras and Banaras Hindu University are the knowledge partners for the 'Kashi Tamil Sangamam,' which endeavours to bring to light the deep academic, economic, social and cultural relationships between Kashi, also known as Varanasi, and Tamil Nadu. The other knowledge partners include the Central Institute of Classical Tamil (CICT), Chennai, SRM University, Chennai, Pondicherry University and Central Institute of Indian Languages, Mysuru.
The program was presided over by Thiru N. Ravi, Hon'ble Governor of Tamil Nadu, and Prof. V. Kamakoti, Director, IIT Madras, among others.
Addressing the gathering, Thiru N. Ravi, Hon'ble Governor of Tamil Nadu, said, "In these 200 years, so much has happened to erase our history and erase who we are that we have to take an effort to re-introduce our country to ourselves. This notion of India created by foreigners has eclipsed the very idea of 'Bharat.' The connection between Kashi and the land of Tamil Nadu is thousands and thousands of years old."
Further, Thiru N. Ravi said, "In this program, more and more people will be part of this initiative. They will be visiting Kashi and witnessing the living evidence of how Tamil Nadu lives in Kashi. It not only lived in the past but even lives today. It would be a revealing experience. I would urge the people to enthusiastically participate and see how great, Bharat is. That is the objective behind this Sangamam. It is to introduce our own country to ourselves. I am sure under the leadership of IIT Madras and BHU and the cooperation of our people, this event over the one month would be very enriching."
It is proposed that around 210 people from different parts of Tamil Nadu will be taken in each group for 8 days tour program. The 12 such groups, comprising around 2,500 people will visit over a month. Groups would leave from 3 cities - Rameshwaram, Chennai and Coimbatore.
As a part of this tour, they will attend academic sessions, and visit places in and around Varanasi and Ayodhya including the Ganga cruise.
All guests are entitled to free travel and free accommodation at Kashi and Ayodhya. The first train will leave on 16th November 2022 from Rameswaram, Tamil Nadu, and the last return train will depart from Kashi on 18th December 2022.
Highlighting the importance of this initiative, Prof. V. Kamakoti, Director, of IIT Madras, said, "This initiative shall provide an opportunity for the people of Tamil Nadu, especially those who have not visited Varanasi and surrounding areas to explore and understand the deep academic, cultural and societal relationships between the two places."
This program is intended to rediscover, reaffirm and celebrate the age-old links between the Tamil culture and Kashi that have existed for centuries. Academic exchanges such as seminars and discussions will be conducted between experts and scholars on various facets of the two ancient manifestations of Indian Culture, with a focus on bringing out the links and shared values between the two.
The Kashi Tamil Sangamam will be centred around a series of themes that cover various facets of knowledge - literature, ancient texts, philosophy, spirituality, music, dance, drama, yoga, Ayurveda, handlooms, handicrafts as well as modern innovations, trade exchanges, edutech and other gen-next technology etc. Seminars, discussions, lectures, lec-dems etc will be held on these themes by the subject experts.